Visit us at the 16th NFXF International Fragile X Conference, July 11-15 in Cincinnati, Ohio!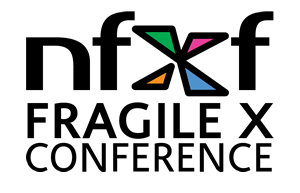 July is National Fragile X Awareness Month! July also marks the occurrence of the NFXF bi-annual international conference. Members of the Our Fragile X World team will be attending conference, which is being held July 11th through 15th at the Hyatt Regency in Cincinnati, Ohio. Come visit us at our booth and learn more about our work. You can also hear about our most recent research findings by attending one of our presentations or poster sessions. Here's a list of where we'll be. Please check your conference program for room numbers:
Presentations:
Thursday, July 12, 9:45 am to 11 am
Title: "Early Check: A Statewide Fragile X Newborn Screening Project"
Presenter(s): Don Bailey, Anne Wheeler, Melissa Raspa, Barbara Biesecker
The team will present about Early Check, a research project that will offer voluntary newborn screening for fragile X syndrome to all babies born in North Carolina.
Friday, July 13, 9:45 am to 11 am
Title: "Beating Stress and Improving Coping in FX Premutation Carriers: The Role of Mindfulness and Acceptance"
Presenter(s): Anne Wheeler
Dr. Wheeler will present results from her Stress, Coping, and Mindfulness survey that was conducted with OFXW families last year.
Saturday, July 14, 11:15 am to 12:30 pm
Title: "Involving Individuals with Fragile X Syndrome in Research: Strategies, Tips, and Lessons Learned"
Presenter(s): Melissa Raspa, Anne Edwards, Sara Andrews, Anne Wheeler
Dr. Raspa will share lessons learned from including adults with FXS in focus groups and a survey designed specifically to ask about their preferences towards research.
Poster Sessions:
The following poster sessions will take place on Friday, July 13, from 5 pm to 7 pm:
| Title | Presenter(s) |
| --- | --- |
| Changes in Diagnostic Criteria and the Prevalence of Autism Spectrum Disorders in Fragile X Syndrome | Margaret DeRamus, Anne Wheeler |
| Parent perceptions of cognitive functioning in children and adolescents with fragile X syndrome | Casey Okoniewski |
| Precision Medicine and Fragile X Syndrome: The Benefits and Risks of Using Electronic Health Records in Research | Melissa Raspa, Anne Edwards, Sara Andrews, Anne Wheeler |
Contribute to Research on Individuals and Families Affected by Fragile X
In addition to presenting our results, we will also be offering exciting research opportunities for families and individuals with FXS! For the first time, we have opened enrollment into the Our Fragile X World registry for adults aged 18-40 with the full mutation so that we can better understand their views, not just those of their parents. We will also be sharing information about new studies that are starting soon.
Let's Stay Connected!
We invite you to visit our booth at the conference and stay connected with us by signing up for our registry and subscribing to our quarterly newsletter. If you won't be at the conference, you can still sign up for the registry or subscribe to the newsletter on our website.
Additional Resources
For more information about the 2018 NFXF International Fragile X Conference and to learn about other ways to get involved during National Fragile X Awareness Month, visit the NFXF website.
Share Your Story
What are your favorite ways to raise awareness of FXS? What do you most enjoy about the NFXF conference? We'd love to hear from you. Please consider
sharing your story with us
.
About the Author
Chris Noronha is a graduate student at UNC's Gillings School of Global Public Health and an intern at RTI International in the Center for Communication Science. His course work and research interests focus on health communication.